Timpanogos Gran Fondo
Download the
2013 Ride Guide
.
General Information
Welcome to the Alpine Loop's party on wheels! As a Gran Fondo, this ride is a non-sanctioned event for all levels of cyclists. As such, we recommend that you enjoy the time riding through the city and encourage you to treat it as a warm-up for the climb ahead. We also know that once you hit the canyon, you will likely be gunning for a fast split. We invite you to go for it, but please remember to obey the rules of the road and to be cautious and aware of the traffic around you at all times. On the descent, take time to relax and enjoy the views of Mount Timpanogos. Most importantly, have fun and remember to CRANK IT!
Starting & Ending Location:
Timpanogos HS (1450 N. 200 E., Orem, UT)
Date:
Trigger Time:
Course Distance:
41.6 miles
Elevation Gain:
4500 feet
Course Map
The following interactive map shows the route. Feel free to zoom in and out and pan around to check out all the details of the course.
The following chart showes the elevation profile for the Timpanogos Gran Fondo.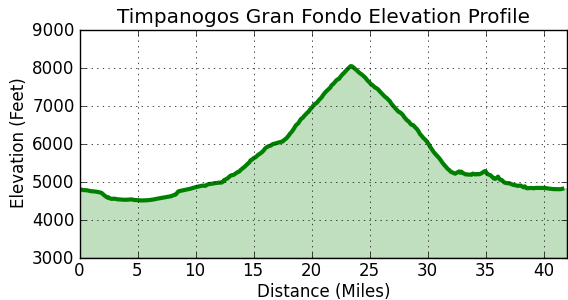 The Ride Includes
Chip timing with segment timing from the American Fork Ranger Station to the Summit.
Free course photography
SAG Wagon Support
Awesome finisher's medal
Finisher's shirt
Aid station support
Finish line food and festivities
Opportunity to be "King/Queen of the Mountain"
Weather
The end of June is prime riding season for the Alpine Loop. Historically, temperatures are moderate in late June, and should translate into comfortable riding as opposed to extreme hot or cold conditions. Sunrise on June 29th is at 5:59 AM.
| | Average | Average Min | Average Max |
| --- | --- | --- | --- |
| Temperature | 72 | 59 | 85 |
Host Hotels
We have arranged discounted rates for our participants at two host hotels, both of which are close to the start/finish venue and right off of the freeway.
La Quinta Inn is offering $79/night for Timp Gran Fondo Participants. The address is 521 West University Parkway, Orem, UT 84058. Reservations at this discounted rate may be made by calling the hotel at 801-226-0440 and mentioning the Timpanogos Gran Fondo.
Towne Place Suites is also offering rooms with kitchenettes for a rate of $79/night. The address is 873 North 1200 West, Orem, UT 84057. You can get this discounted rate by calling 801-226-0440 and mentioning the Timpanogos Gran Fondo or by using this customized link.
Packet Pick-Up
Packet pickup will be held on Friday, June 28th at SBR Utah from 4:00-8:00 PM. SBR is located at 149 West 400 North in Orem, UT (just west of State Street).
You will be receiving your race bibs, timing chips, shirts, and other swag items at packet pickup. Ride Directors will be present to answer any questions, and the SBR crew will be available to help you out with any tune-ups or gear that you may need.
Morning of the Ride
We encourage cyclists to arrive early in order to ensure an on-time trigger. Parking will be available on the northeast side of the school, just south of the start/finish line. Please enter the neighborhood from the east side of the school (using 400 East), as the road west of the start line will be closed for the start.
The parking lot on the southeast side of school and the adjacent roads may be used as a warm-up area. SBR will be present at the starting area to help out with any last-minute mechanical support you may need.
Prior to the trigger, please make sure that your timing chip is on your ankle and your bib on your chest.
The Course
The course begins and finishes at Timpanogos High School, and winds west and north through six cities before entering American Fork Canyon. There are very few turns on this course, which makes it easy to get into a good cadence. After reaching the summit, riders will have the opportunity to wind down past Sundance Ski Resort and out of beautiful Provo Canyon before reaching the finish line. A map and summary of key points and turns along the route are included below.
Start and finish at Timpanogos High School
Turn left (west) on 1600 North
Turn right (north) on Geneva Road
Turn left (west) on 700 North
Continue straight on North County Boulevard
Turn right (east) on Timpanogos Highway
Enter American Fork Canyon
Summit American Fork Canyon
Turn right (south) on Provo Canyon Road
Turn right (west) on 800 North
Turn right (north) on 400 East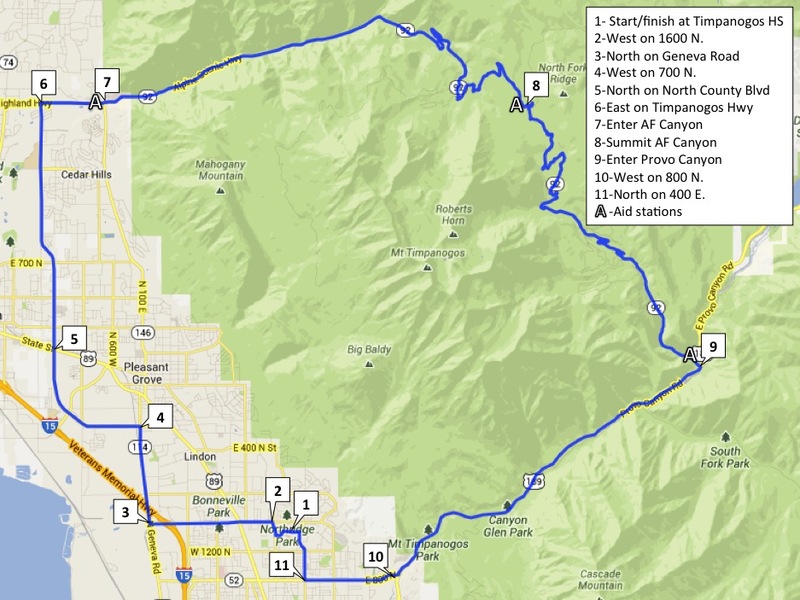 King & Queen of the Mountain
Cyclists will receive both their final overall time as well as their climb split from the mouth of American Fork Canyon to the summit. This classic climb (just look at the fierce competition on Strava - Alpine Loop (American Fork)) is the portion that will determine who will be awarded King and Queen of the Mountain. The top 3 male and female finishers will be included in the awards ceremonies, which will tentatively be held at 9:30 AM (male) and 10:00 AM (female). Exact ceremony times may change based on when participants finish.
Climb Split & Summit Parking Lot
The beginning of your climb split will begin right as you enter the canyon at approximately mile 12.3. Flags will be on the road to indicate where the timing strip is located. Please ride on the right side of the road and between the flags to ensure that your split gets taken.
In order for the mouth to summit split to be taken, cyclists must enter the roadway to the right that leads to the summit parking lot (approximately mile 23.2). The end split is on this roadway right before you get to the parking lot loop. Volunteers will be present to guide you here.
At the summit, feel free to take a break, grab some fruit or a bagel, use the restroom, and refill your bottles before heading back down the other side.
Aid Stations & Mechanical Support
There will be three aid stations along the course, each of which will include Gatorade, water, and gels provided by SBR. The aid stations will be located at the following locations:
Mouth of American Fork Canyon (mile 12.2)
Summit parking lot (mile 23.2)
Intersection of Alpine Loop and Provo Canyon Road (mile 31.9)
SBR will also be following the riders in a sag wagon and will be available for any mechanical support needed along the course. If you are unable to continue for whatever reason, the sag wagon will not be too far behind you. If you see another cyclist that is unable to continue, please notify the next aid station and they can communicate the location of the cyclist to the sag wagon.
Rules of the Road
In order to ensure the safety of cyclists and vehicles, the following rules must be followed at all times. Failure to adhere by any of these rules will result in immediate ejection from the event.
Helmets are mandatory at all times
The use of headphones is strictly prohibited
Cyclists are responsible for obeying traffic laws at all times
Personal support vehicles are not allowed on the course
Additional Ride Rules
In addition to the rules of the road, these additional rules apply to all Timpanogos Gran Fondo participants:
Any minor under the age of 14 must be accompanied by a legal guardian
Tandem bikes are allowed on the course, but there will not be age divisions.
Course Signage
Large signs with the Timpanogos Gran Fondo logo and a directional arrow indicating which direction cyclists should go will mark every turn on the course. Additional signs will be placed at larger intersections indicating where cyclists should proceed straight. Once you notice these signs please keep your eyes open for them as you proceed along the course route.
Volunteers may be present at key intersections as well to ensure that cyclists stay on the correct route. Please take a few minutes to study the course route and familiarize yourself with the turns.
Medical Aid
Each aid station will be equipped with a basic first aid kit that will include bandages, Neosporin, gauze pads, ibuprofen, and other basic items. Should you need any of these items, ask the volunteers at the aid station and they will be able to assist you. Additionally, our medical director, Dr. Thad Barkdull from Tri City Medical Clinic, will be present at the finish to provide necessary medical care.
Photography
Photographers will placed along the most scenic portions of the course. Photographers will also be at the finish to capture your sprint across the line. Photographs from the race will be made available for free shortly after the event for those that have registered for this service, and will also be availabe online at Zazoosh.com. Your photographs will be given to you for free...how sweet is that?
Spectator Locations
Got a club that wants to cheer you on? Because the canyon will will be busy, there will be limited spectator options in the canyon itself. The finish line will present the best place for your crew to cheer you on to glory. Additionally, there will be options on North County Boulevard, Timpanogos Highway, and along the parks coming down Provo Canyon.
When You Finish
Immediately after crossing the finish line, a few things will happen. First, you'll be rewarded with one of our huge finisher's medals - enjoy!
Volunteers will also be present to retrieve your timing chip, as these are not disposable. If a volunteer is not present to retrieve your chip please return it to the timing booth, which will be located under the tent adjacent to the finish line.
After you get your medal and return your timing chip, take some time to celebrate with some great food, enjoy the music, cheer on your fellow cyclists as they cross the line, and stay for the awards ceremonies.
Timpanogos Gran Fondo jerseys and shirts will be available for sale at the retail booth by the finish area.